Meet our Deputy Manager at Lime Tree Court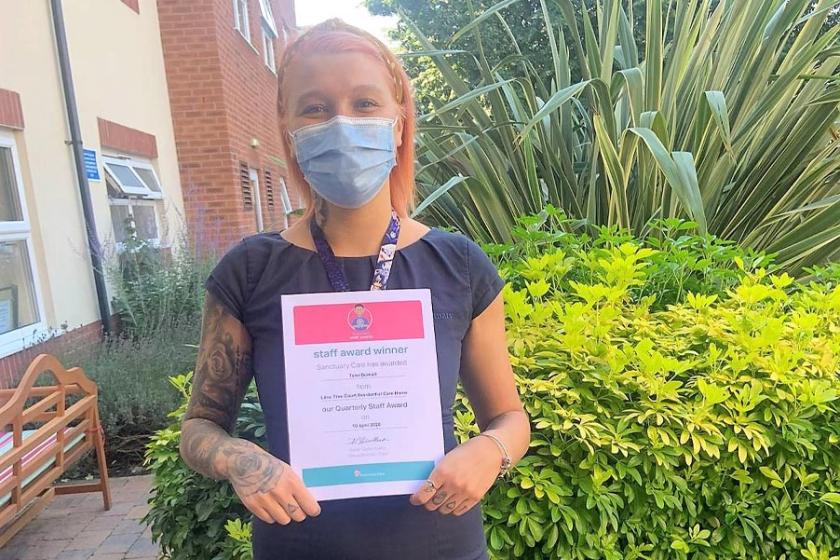 Tyler Durnall is our Deputy Manager at Lime Tree Court Residential Care Home in Wolverhampton. At 27-years-old she has worked at the home for over five years, starting her career as a Care Assistant, before being promoted twice to Deputy Manager three years ago. But more recently, her dedication and outpouring of support for her residents and team has recently been recognised in a Staff Award scheme.
Sanctuary Care's Award Scheme recognises our staff who go above and beyond to enrich lives - lives of their residents and colleagues. And while working in the pandemic we are proud of every single one of our care home workers for everything they are doing (and wish we could award every single one of them), Tyler was nominated by her team, and has since successfully won Sanctuary Care's Employee of the Year 2020.
A glowing care home award nomination
In her nomination, which was from every single member of her care home team, she was described as someone who...
is always there to support her peers
dedicates her own time for her amazing residents
delivers high quality care with respect, dignity and dedication
is an inspiring care home worker
and a manager who empowers her team to be the best they can possibly be.
Explaining how she felt when she won the award, Tyler said: "I couldn't quite believe it. No one told me they had nominated me for the award so it was a complete surprise, a lovely surprise in fact. I just couldn't believe I had been nominated, let alone won!"
Award-winning care home management
She continued on what makes her team and her management style a winning success: "Here at Lime Tree Court we have an open door policy. Myself and Denise (Home Manager) have all the time in the world for our team, and of course it goes without saying the same for our residents. No matter what time or day, we will always be there. And it's something that is followed throughout the home.
"I honestly believe good care home management is to always listen, care, be fair and be approachable. Four simple things that empower staff and enrich their working lives, while creating a home for our residents that inspires them every single day."
Finally sharing how she celebrated, Tyler concluded: "I am so over the moon! I celebrated by enjoying a socially distanced glass of Prosecco with my parents, whilst my dad set off a firework. The firework failed terribly, but it was the thought that counts!"
Next stop, Sanctuary Group awards!
Tyler is now going head-to-head with Staff Award winners from across Sanctuary Group for the annual Group prize. Good luck!