Plymstock residents enjoy virtual cruise and learn new languages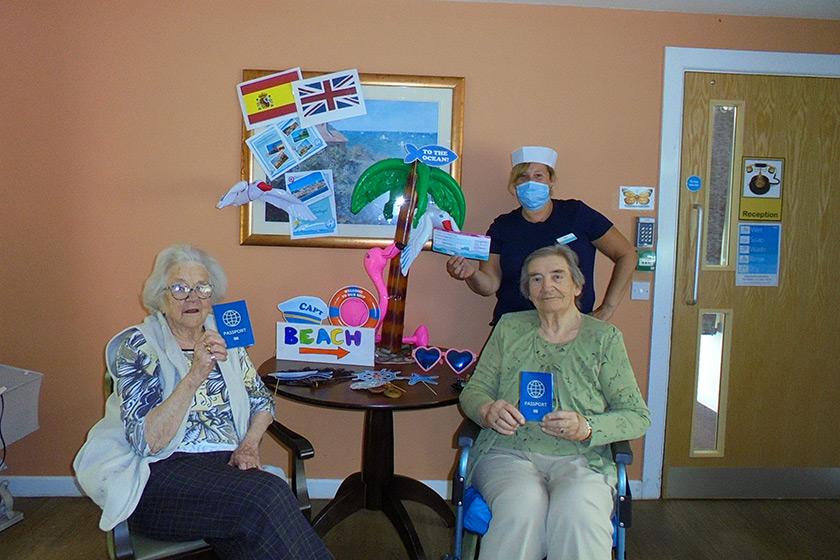 Furzehatt Residential and Nursing Home, a care in Plymstock, is sailing across the virtual seas to discover European holiday hot-spots throughout the summer.  
Boarding passes in hand, the passengers of the Furzehatt Road cruise-liner will be enjoying a virtual holiday of a lifetime, where they will be exploring traditional flavours and cultures of eight far away destinations each week.
Half way through a virtual cruise of a lifetime
Explaining why her fellow cabin crew are pulling out all the stops, Crew Member Suzie Davis (activities coordinator) said: "We are nearly half way through our Sanctuary Care Cruise and what a cruise it's been – I can't put into words all the amazing fun we've all been having. We've had French painting lessons, made delicious Spanish sangria and even tasted Portuguese Port, as well as themed cuisine and even enjoyed a festival – all of which has taken place in the heart of our home. It really is a summer to remember, not just for our passengers but also the crew as well."
First-class passenger Jean Coombe (passenger) added: "The cruise has been so enjoyable, especially the sangria and all the gorgeous fruit we had when we were in Spain."
Barbara Hume, fellow passenger, continued: "I have loved it. I have even learnt a bit of French and Spanish as well – and I now want to learn even more."
As part of the virtual cruise initiative, cabin crew are delivering traditional festivities with real authenticity right in the heard of their ship. And the travel calendar is literally bursting at the seams, with highlights including dancing, crafting, baking, tasting, drawing, quizzing, learning and celebrating, as well as a range of festivals.
Follow our two month long cruise
The Sanctuary Care Cruise-liner is voyaging to:
Lisbon, Portugal (9 – 10 July)
Malaga, Spain (16 – 17 July)
Nice, France (23 – 24 July)
Rome, Italy (30 – 31 July)
Valletta, Malta (6 – 7 August)
Athens, Greece (13 – 14 August)
Limassol, Cyprus (20 – 21 August)
Istanbul, Turkey (27 – 28 August)
You can follow our residents' journey on our social channels (Facebook, Twitter and LinkedIn) or simply search #SanctuaryCareCruise.