Spanish festivities enjoyed by care home residents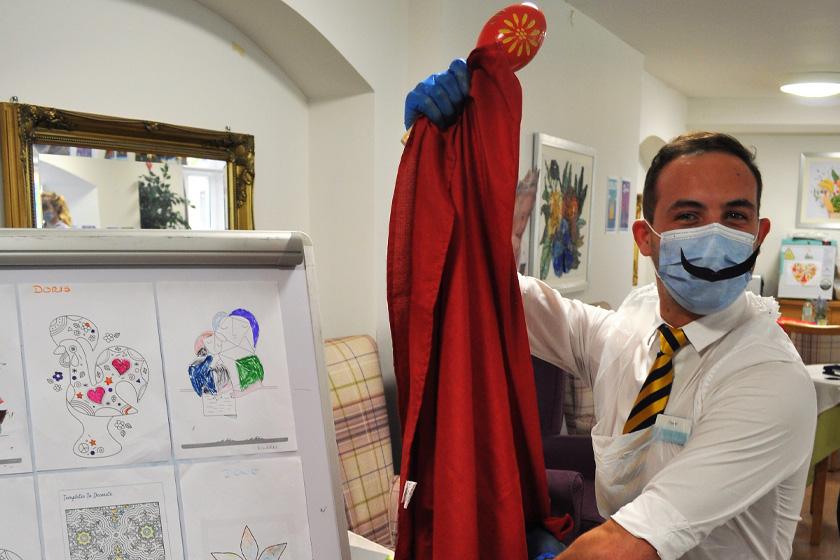 Our second stop of the two-month long Sanctuary Care Cruise was Malaga, with our passengers and cabin crew exploring the rich Spanish culture, washing it all down with refreshing sangria.
Among them is our Basingfield Court Residential Care Home cruise-liner (our care home in Old Basing), where residents had their very own Spanish Matador in the shape of Pawel Wisniowski, the home's deputy manager.
A "wonderfully creative" cruise
He said: "Not many people would believe you can experience genuine holiday moments in a care home, but those people have never been on a Sanctuary Care Cruise. And this is not just a holiday for our residents, but also the team. We are bringing the European destinations into our home through amazing food, fun and inspiring excursions, and the cabin crew are playing their part perfectly.
"I honestly can't put into words how wonderfully creative the past weeks have been, and we are all so looking forward to the rest of our European tour – especially our residents, some of whom have never been abroad before! We are not only enriching lives, we are creating new life experiences – how amazing is that."
First class cruise passenger, Alma Hughes (95-years-old) said: "It's so wonderful to be on very own cruise, so far Spain and the Sangria have been my favourite. I am telling my family all about it over FaceTime and they can't quite believe it and wished they could come along too."
Follow the two-month long cruise
You can find out where else Alma will be voyaging to and other excursion highlights throughout July and August on the Sanctuary Care Cruise.
Or follow our residents' journey on our social channels (Facebook, Twitter and LinkedIn) or simply search #SanctuaryCareCruise.