Thankful Mary has recovered from coronavirus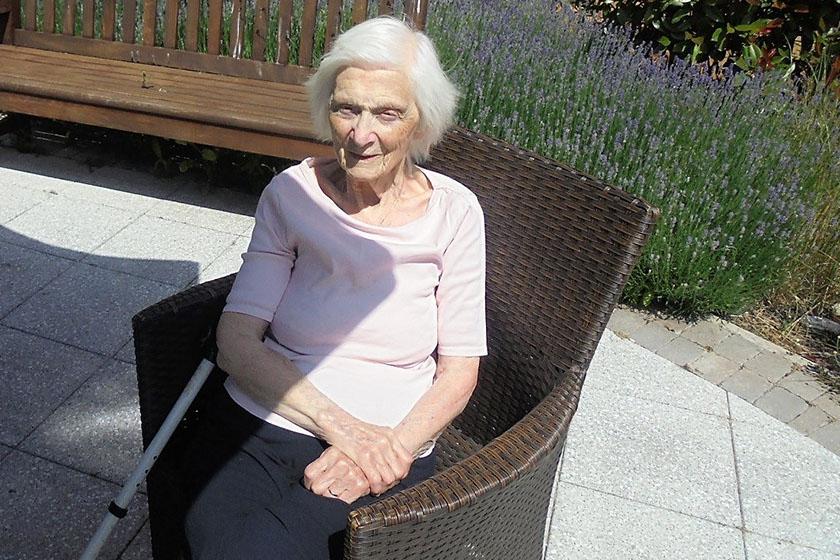 Everyone's fight against Covid is personal and unique to them. And someone who has had their own experience with the global virus is Mary Maddocks, who had the calming strength and support of her care home's team rallying around her, with their mantra of 'Keep Calm and Carry On'.
It all started with a hoarse-throat...
Initially Mary, a resident from Sanctuary Care's Juniper House Residential Care Home in Worcester, displayed a dry throat and a mild cough, but with no other symptoms. But within a day, her usual behavioural patterns had completely changed – she became subdued and lost her appetite, to name but a few.
Sue Williams, home manager at Juniper House, said: "It was such a quick change for Mary. It couldn't have even been 24-hours until Mary herself noticed she had a dry throat, to not wanting to eat and having zero energy. It was a real concern for us all."
Sue and her team already knew it was coronavirus - they could just tell, but they arranged a personal diagnosis with her GP via a video link consultation right away, and the GP confirmed what everyone was thinking - and from then it was all systems go.
Person-centred care throughout
Sue continued: "As with all our care, we encourage our residents to be as involved as they can be so when we got confirmation we immediately starting discussing with Mary and her loved ones, alongside her GP her acute care plan, COVID risk assessment and escalation plan in case her health deteriorated."
From the offset Sue and her team made it clear it wasn't a personal fight for Mary, it was a home fight. They adapted to meet her care needs to support her throughout her illness, which included a member of staff going in every hour to have her much needed 'chats'. To check that Mary, not as someone fighting coronavirus, but Mary the person was okay.
Sue added: "We have daily briefings and regular handovers so all my team were briefed on Mary and her progress, but we were all too aware that this was a scary time and she was isolating, so she needed a buddy. So from day one, one of my Team Leaders was assigned to continually check in - not just for care checks, but for wellbeing too and to support her to stay connected with loved ones via FaceTime calls with her family. Family is everything to Mary and being able to stay in touch certainly helped her to remain positive."
Red, amber and green hearts marked Mary's progress
Throughout the highs and lows of Mary's illness, the home adopted a traffic light system, with red, amber and green hearts being hung on Mary's door to identify her progress with coronavirus. For some time she was a red heart but with sheer determination from both the team and Mary – she is now all green.
Sue shared: "The NHS has a bell to ring or they move their patients to a new ward when their progress improves, but for Mary she stayed put and everyone was always asking after their dear friend. So to keep everyone informed we added hearts to her door, and when the green heart was hung it was a real celebration for us all. Everyone knew right away and was so happy - and the same heart is still hanging on her door to this day. Once the green heart was up, it remained."
Mary concludes: "The team were very good and I would like to thank them for all they have done to help me recover from coronavirus and get my green heart!"