True Scottish might was the lifeline for Lila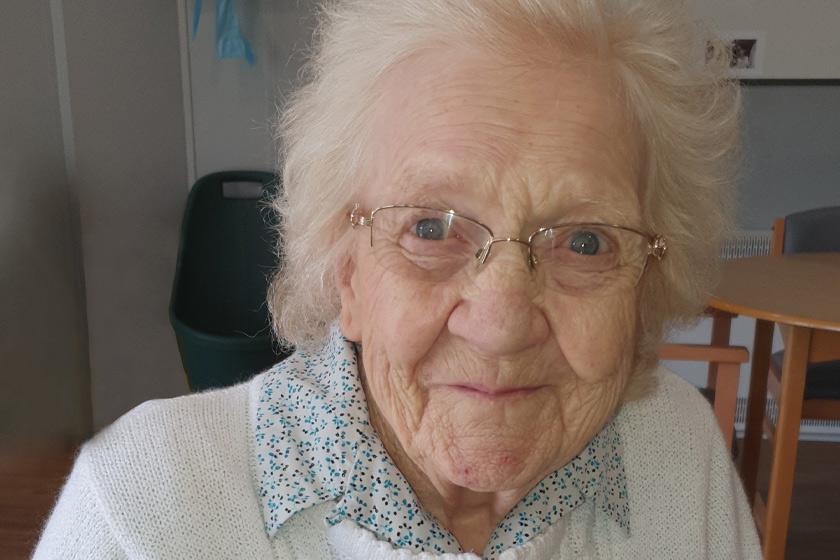 85-year-old, soon to be 86, Lila Merchant from Pitcairn Lodge Nursing Home in Aberdeenshire has recently combatted coronavirus. And even though the virus has gripped the globe, this determined Sanctuary Care resident has some straight-talking wisdom of her own. In true Scottish fashion, she says: "(sic) You just hae ti get on with it."
Here's Lila's Covid-19 story:
"Lila's experience with coronavirus was what you'd expect. It all started with a cough, feeling generally unpleasant and lethargic, as well as completely losing her appetite," explained deputy manager at Pitcairn Lodge Ruth Witkowski.
Ruth continued: "As soon as any symptoms slightly showed Lila was barrier nursed and remained in isolation, which was an incredibly difficult time for her."
Lila was unable to move from her bed, with eating and drinking becoming increasingly difficult as each day passed. And on top of all her medical concerns, she was deeply missing her loved ones.
"Lila is so close to her family, they mean the world to her and if coronavirus wasn't the global and contagious concern that we all know, they would have rallied around and showered her with love, strength and support," Ruth added. "But instead that's what our care home team did - 24/7, because there was nowhere else we'd rather be."
Despite missing loved ones, Lila was never alone
The dedicated and caring team never allowed Lila to feel alone – because she never was. They were always there, not just to encourage her to eat and drink, or carrying out her baseline care needs, but they were there to be the smiling face she recognises. The smiling face that feels safe and comforting.
Ruth shared: "I can't put into words how dependable our residents are on the team, and likewise how much they mean to us. It was never '85-year-old resident Lila fighting coronavirus', it was always 'our Lila is fighting coronavirus and she needs us more than ever', and we were going to do all that we can to get her better. And because we are one big family, we know what our residents love and what gives them the grit to carry on, and for Lila it's her family."
That's why the team ensured they were always keeping in touch with Lila's loved ones. We were phoning constantly to check on her progress but also to share messages, as well as arranging regular FaceTime calls when Lila was fit enough to engage.
Ruth added: "Lila would find it difficult to stay awake, but as soon as she saw her loved ones' faces she would get some spark back."
Around-the-clock support is seeing Lila return to her baseline care
And after many FaceTime calls and isolation days, Lila started to get back on her feet and tested free of Covid. She is still slowly returning to her baseline care thanks to the round-the-clock support from her care home team.
Lila concluded with a simple message to the Pitcairn Lodge team: "Thank you, you were, and always, are so nice to me."
Continuing high quality care
Finally explaining how she and her amazing team were able to provide Lila with such high-quality care and remain the home she is so proud of for the rest of her residents, Ruth said: "As a member of management, I reinforced just how important each member of the team is, and empowered them to realise how, now more than ever, their role is vital to the safe and efficient running of the home that we all love so much.
"We came together several times a day to think about those who were most important – not us, our residents. And that was our motivation, as it always is. We wanted to be there for them and reassure them that they were still safe. We even employed Wellbeing Assistants - their main role was to make our residents smile, so our caring team could continue to deliver the care I'm so proud of – and they haven't let us down."