Dad was lonely and isolated at home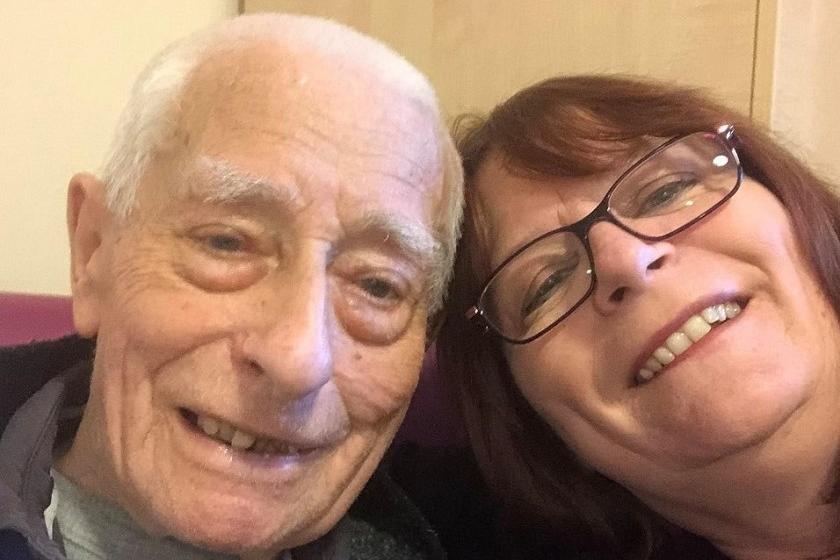 For Brenda Mundy and the family, moving their father Dennis from respite to permanent full-time care at the beginning of this pandemic was a decision they will never regret.
Dennis, who has dementia lived alone, with Brenda and her brother, sister and carers visiting daily. By the time of the first national lockdown, his health had deteriorated, and he'd had a number of falls.
Brenda said: "I used to worry no end it was absolutely awful. He once spent a whole night on the kitchen floor after falling - the thought of that just horrifies me."
If you are concerned about a loved one's care needs, please call our Enquiry Support Team advisors on 0800 917 0478.
Brenda booked a short respite care break at Iffley Residential and Nursing Home in Oxfordshire. By the start of the first national lockdown, Iffley had become his home.
Brenda explained: "The care he was receiving was excellent. There was no way I wanted to move him back home – he was happy, being cared for and receiving everything he wouldn't be at home."
He's not lonely now – they are his second family
For Brenda the comfort of knowing Dennis has the companionship of the staff and residents gives her peace of mind.
She said:
When a member of staff walks past his room and says hello, he looks at them with a beaming smile – he sees them as his second family and that gives me great comfort. He's not lonely anymore. 
"The smile on his face speaks volumes to me – he's happy and when he sees the staff - there's genuine warmth in his smile."
If dad was home alone during lockdown...
For Brenda, the thought of Dennis being at home on his own during a national lockdown doesn't bear thinking about. She said:
If my dad had been at home during the lockdown, I don't think he would have seen this 98th birthday just before Christmas. He was so isolated at home, just sitting there in his chair and would have deteriorated mentally and physically. 
"At Iffley they look after him so well and the whole family is so grateful to them – the team and the manager Sue are amazing." 
For free advice about different care options, please call our Enquiry Support Team on 0800 917 0478. Alternatively you can email them at care.hub@sanctuary-housing.co.uk or join them using the Live Chat icon on the website.