Living alone was so isolating - Lake View is my home now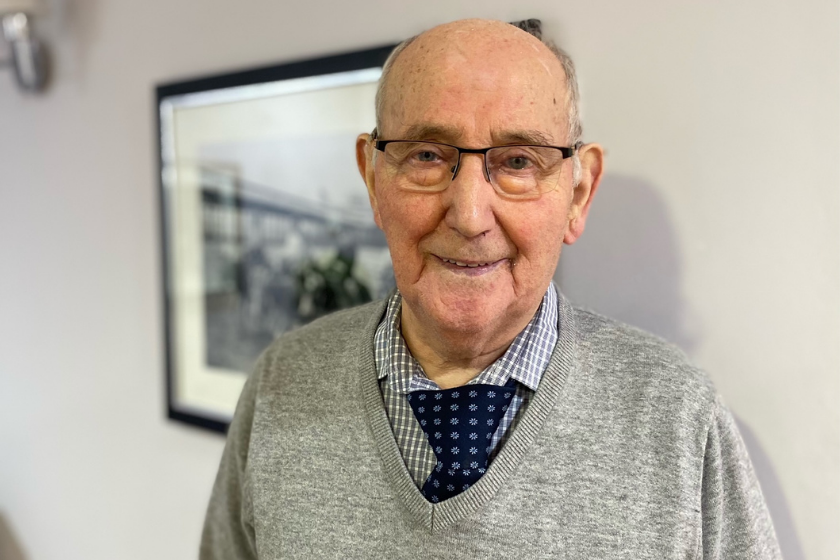 Ken Davies lived on his own after his wife passed away, with his three of five children looking after him, and taking him out and about. He said: "I was happy at home but felt lonely at times."
Ken had an active social life, seeing his children daily and attending a social club, where he was the bingo caller.
Lockdown shrunk Ken's world overnight
When the first national lockdown came, like so many older people living alone, Ken's world changed.
Daughter Maureen said: "He was stuck in the house on his own, not seeing people." 
Son Kenneth discovered Lake View Residential Care Home which, like so many Sanctuary Care homes, offers respite care breaks. After speaking to Home Manager Michelle, they booked a short break for Ken.
For information about respite care, our Enquiry Support Team advisors are here to talk on 0800 917 0478.
Like all new residents Ken self-isolated in his bedroom where staff, wearing Personal Protective Equipment (PPE), would bring him delicious home-cooked meals and deliver one-to-one inspiring activities, helping him to settle in. After his negative Covid-19 test he was able to socialise with his fellow residents in his 'bubble'.
It wasn't long before activities coordinator Tanya persuaded Ken to renew his passion for bingo calling at the home. He was so happy, he has now moved in permanently.
I don't feel lonely anymore
I feel happy and at home here and I don't feel lonely anymore. I feel safe always having the staff around and they are so good to me. It's so nice having the company of the other residents and staff.
Knowing Ken is safe and happy gives his children such peace of mind. He added: "My family feel reassured that I am looked after here."
I would not want to be alone during another lockdown
When asked how he would feel about spending another lockdown living by himself he said:
If I was at home, I would be very scared having to be alone. Lake View is my home now and I always feel reassured by the staff.
My advice to people struggling alone
"I would tell others how wonderful the staff at Lake View have been to me and how they have made me feel. I enjoy living at Lake View and I enjoy calling the bingo every week. I feel very safe and happy here."
If you would like to know more about our respite care options, our Enquiry Support Team advisors are here to talk and offer free advice on 0800 917 0478. Alternatively you can email them at care.hub@sanctuary-housing.co.uk or join them using the Live Chat icon on the website.