I know he is safe and I haven't got to worry - Sheila's story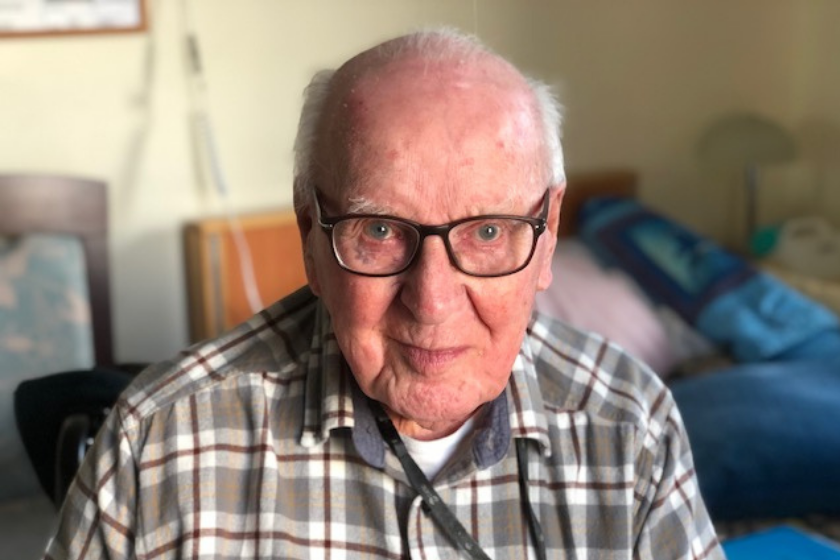 When Sheila Steel was looking for a nursing home for her father Arthur, a friend recommended Beach Lawns Residential and Nursing Home in Weston-super-Mare.
Five years later 103-year-old Arthur is still very happy here, enjoying a bedroom with sea views, home-cooked meals and most importantly – safe care provided by a devoted team.
Keeping connected through safe visiting options
For Sheila, although the Covid-19 pandemic has changed the way she visits her father, she is happy knowing these visits can still take place in a way that keeps everyone safe. When Sheila arrives her temperature is taken and she sanitises her hands, before sitting behind a screen wearing Personal Protective Equipment (PPE) to talk to Arthur in the home's conservatory. Sheila also has the extra peace of mind that Arthur has had his Covid-19 vaccine.
She explains: "I know he's safe and I haven't got to worry. I feel very reassured."
Before moving to Beach Lawns, Arthur lived with Sheila, but his frequent falls were becoming a worry and Sheila's couldn't physically lift him by herself. With the arthritis in his back causing him more pain, they knew they had to find a permanent care solution.
Sheila said: "We looked at Beach Lawns and couldn't believe our luck that they had a room overlooking the sea. He loves to watch the ships going by and see people on the sea front.
"The staff are very caring and he really likes them. He always enjoys himself. And at 103 he is still as bright as a button!"
To find out more about life at Beach Lawns or any of our other homes, our Enquiry Support Team advisors are here to talk on 0800 917 0478.
As well as enjoying activities like dances and quizzes, Arthur is very fond of the home-cooked food. A decorated war veteran, he also greatly enjoys the company of one of his fellow residents.
It makes me feel happy because I know he's enjoying himself. It's a lovely place – a home from home.
 
Sheila feels so happy with Beach Lawns, she has recommended the home to others by leaving a glowing review on the UK's leading care home reviews website Carehome.co.uk, as well as having personally recommended it by word of mouth.

To find out more about care options, our Enquiry Support Team advisors are available on 0800 917 0478. If you prefer you can email them or use the Live Chat icon on our website.