I thank goodness she's at Briggs Lodge - Teresa's story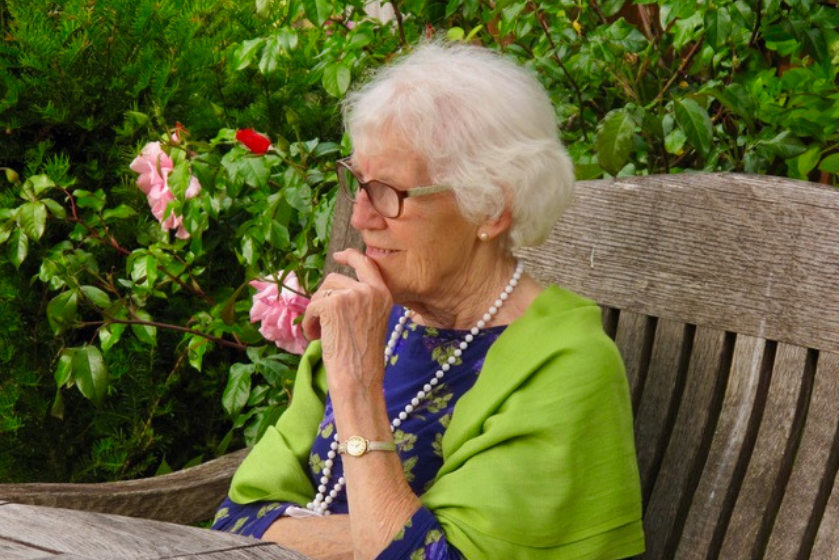 For Teresa Beese, when mum Maggie, who lives with dementia was hospitalised following a fall, she knew it wasn't safe for her to return home.
There were so many boxes to tick to find a care home that Teresa and Maggie would be happy with – thankfully Briggs Lodge Residential Care Home in Devizes was the right place for Maggie to call home.
Maggie moved into the home in September 2019 - having experienced life there both before the world-wide Covid-19 pandemic and during, Teresa couldn't be happier with her decision.
"I know mum is safe," she explained. "I thank goodness that she is there because I think she is safer there than she would have been at home - safer and being properly looked after and cared for."
Teresa has nothing but praise for how the team has responded to the pandemic, especially around the robust safety measures taken to protect residents and their loved ones.
"I think Sanctuary Care has dealt with everything Covid-related really well, particularly with how Briggs Lodge is set up, we can still visit and I can see mum behind a screen - it's comforting and reassuring," she said.
"They have done a superb job with facilitating visits with the safety of the residents and their visitors in mind. For mum to physically see me, it's a huge comfort for her."
For support looking for care options, our Enquiry Support Team advisors are available on free-phone 0800 917 0478.

Teresa initially looked at Briggs because she wanted Maggie to have a bedroom with direct garden access, as well as a good view of life outside the home. She was also impressed with the communal spaces such as the cinema room and lounges.
She said: "It was also very spacious and we loved the fact that it had been built with space in mind."
For Teresa the care is as wonderful as the facilities. Maggie enjoys breakfast in bed, just the way she likes it, as well as taking part in activities such as gentle exercise sessions. She also enjoys delicious home-cooked food. Teresa loves that Maggie is able to choose from beautifully presented, plated options at mealtimes, which stimulates her appetite and helps her to make her own choices. 
Teresa added: "It was not an easy journey but the staff are absolutely amazing. They really tailor the care to the needs of the residents." 
So happy with the care provided, she felt compelled to write the following review for Carehome.co.uk, the UK's leading care home reviews website:
I don't believe any care home will be as we first imagine - there are so many criteria to meet and satisfy, not least those of family members. Care and safety are for me the primary concern - if they are good, then my mind is at rest and my family member will be happy and as content as they can be in the home. Briggs achieves this with excellent staff and a listening approach. With so many individual needs to meet, I think they do extremely well, albeit it is difficult to measure during COVID when one is unable to visit inside the home.
Our Enquiry Support Team advisors can provide you with free advice on care options available on 0800 917 0478. If you prefer you can email them at care.hub@sanctuary-housing.co.uk or use the Live Chat icon on the website.