Food from the heart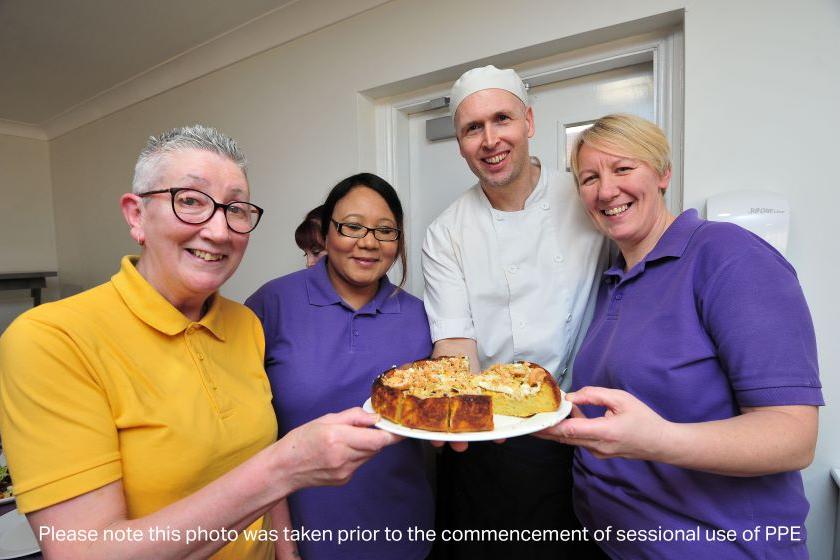 Meet Matthew, the talented head chef at our outstanding-rated Lammas House Residential Care Home, who explains his passion for serving food his residents adore.
For Matthew, being a care home chef comes with great responsibility. He said: "Good food is important to our residents as it makes them feel special, loved and cared for when they can appreciate the effort made."
Matthew and his team create delicious seasonal, homemade dishes and freshly baked cakes and biscuits daily.
He said: "The residents are inspirational and it makes me proud to create the best mealtime experience possible.
"When I read their dietary notification and the types of food they enjoy, I try to make the best possible dishes both in taste and appearance, so they can have the best dining experience.
"I know some of the residents are good cooks and enjoyed cooking, so my food must be as good as the food they used to cook for their families or loved ones."
Why not sample Matthew's cooking with a respite care break? Just call our Enquiry Support Team on freephone 0800 917 0478.
At breakfast, there's anything from toast, to any item of a cooked breakfast served however they choose – everything centres on choice. Some residents need meals fortifying to gain/retain weight or have softer food if they have difficulty swallowing. The team knows residents' individual preferences and needs. 

When he serves the residents, Matthew takes time to explain what's on the menu and see what they fancy - a half portion of this or a different homemade sauce – nothing is too much trouble. 
Firm favourites are the traditional roast dinners with all the trimmings, as well as county regional recipes enjoyed from days gone by. Recently he held a virtual foody tour, where he recreated heritage cake and biscuit recipes from different counties. He lovingly baked over 30 different recipes, including Cumbrian damson cake, Ecclefechan, a butter tart from Dumfries and Galloway and Women's Institute favourite sultana bread.
To find out more about life at Lammas House, our Enquiry Support Team advisors are here to talk on freephone 0800 917 0478.