Choosing between home care and living in a care home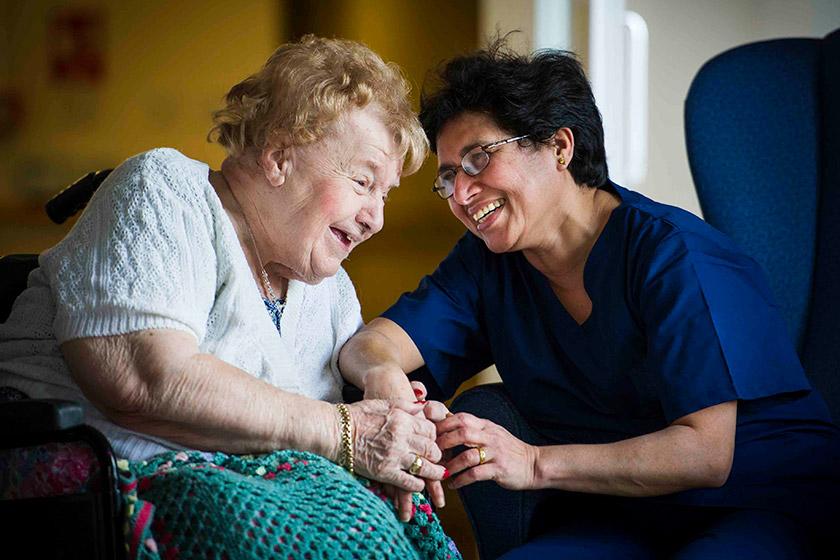 We understand that one of the hardest choices you can make with a loved one, or on behalf of, is whether receiving care at home is enough to meet their physical and emotional needs, or if moving into a care or nursing home is the way forward.
With over 20 years' experience in care, we explore some of the benefits of living in a care home. Or to speak to someone in person, our Enquiry Support Team advisors are here for you on 0800 917 0478.
Companionship and friendship
It's no secret that even before the pandemic, many people living alone felt socially isolated, even with homecare support and the gaps between homecare visits can seem long and lonely.
In our care homes, while our residents have the privacy they desire with their own bedrooms, they are surrounded by people who care for them like family 24/7 and enjoy socialising with their 'neighbours' – their fellow residents. Many feel that this gives them the best of both worlds, enriching their lives.
The interaction he is getting is definitely enhancing his quality of life. 

Carehome.co.uk review, Nov 2021
Staff who know you like family
With home care, it may be that different carers may visit each day and will often have a limited amount of time.
In our care homes, our staff get to know their residents and their individual needs – both physically and medically, but as importantly – emotionally and socially. With the same people caring for you, they understand everything about you. You might like to get up early to watch the sun rise or like your tea in a certain cup – knowing our residents means we can provide truly person-centred care, so they thrive as individuals.
"The love and care they give not only to my uncle but to all residents, they are all like one big family". 
Carehome.co.uk review, Nov 2021.
And to hear more about life in a care home, our friendly Enquiry Support Team advisors are available to help you navigate the journey on 0800 917 0478.
Peace of mind
When you live alone, it's can be hard for loved ones to be there whenever they're needed, especially if they are juggling the responsibilities of work and children. Our residents' relatives often tell us that they worried what might happen.
Moving into a care home can take away the worry for loved ones as we're here, around the clock, whether someone is struggling to sleep in the early hours or fancies a chat over afternoon tea.
Our devoted staff have worked tirelessly to keep our residents safe during this pandemic.  Proud to be vaccinated, they are kept up to date with the very latest guidance on how to keep our residents safe – and ensure their loved ones can visit safely.
Now we have peace of mind that she is safe and happy.

Carehome.co.uk review, Oct 2021
Living life to the full
Our homes have activities co-ordinators who are devoted to supporting our residents to enjoy doing things that are engaging and important to them as individuals and enrich their lives, whether that's reigniting an old hobby or trying something new. From fun group activities to more person-centred sessions, there's always something to enjoy.
"The staff bend over backwards to help and work so hard to ensure their residents are having the best life!"
Carehome.co.uk review, Nov 2021
Food
Living alone, it can be hard to motivate yourself to cook varied meals, and if you have meals delivered, there may be a limited offering.
Our care home's chefs prepare home-cooked meals, from cooked breakfasts if desired to roast dinners and cakes for afternoon tea. Each resident's individual dietary requirements are catered for, so their meals are not just delicious, but support their needs.
"Food is first-class (I will need to go on a diet!)." 
Carehome.co.uk review, Nov 2021
Respite care – see if care home life is right for you?
There are so many negative myths about living in a care home and if we're honest, choosing to move into a home is a decision some people are reluctant to make. We're confident that if you saw what life is like in a Sanctuary Care home, you'd be very pleasantly surprised. For our teams, care is a vocation and they are passionate about supporting our residents to thrive.
And our care homes are just that – homely and comforting places where our residents – and those closest to them feel at home.
Why not see for yourself? Our respite care breaks can give you the chance to see if care home life is right for you.
Our dedicated Enquiry Support Team advisors are here to talk through any questions you may have about choosing whether a care home is right for you, on 0800 917 0478.
I never ever wanted my mum to go into a home, but after seeing what they offer how very stupid was I to feel like this.

Carehome.co.uk review, Nov 2021