Westmead's residents enjoy a taste of Glastonbury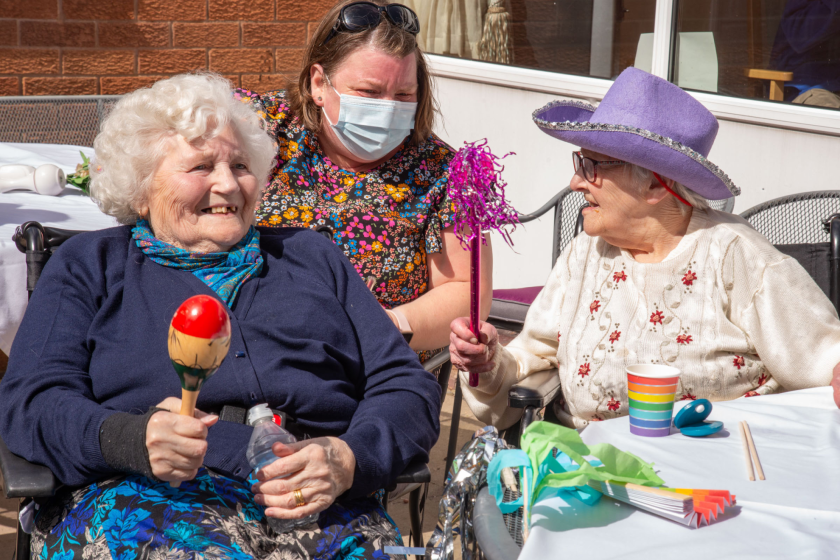 Ahead of this week's 50th Anniversary of Glastonbury, the team at our Westmead Residential Care Home in Droitwich brought a taste of the iconic music festival to residents, bringing enrichment and joy.
'Glastonmead' festival brought smiles and laughter as Midlands Glam Rock duo 'Glam Sparrow' headlined the 'pyramid' stage, performing an array of hits from the likes of The Beatles.
While the band performed, the care home team created a temporary tattoo parlour, with an array of colourful bunting, bubbles and flags.
The residents were joined by their loved ones, who enjoyed a sing and dance together in the garden while soaking up the sunshine! 
Activities Co-ordinator Kate Lockwood, who organised the festival said: "Glastonmead was particularly special as many of our residents are older people living with dementia. It was magical to see the joy and happiness that live music, a song and dance can bring!"
Resident Brenda Rastall said: "It was such a treat to have live musicians perform for us. The band were brilliant, and it was so much fun to get together and enjoy the music. My favourite part was singing 'Welcome to My World'."
Music and emotion are linked in a powerful way, and in fact, many studies have shown that listening to and engaging with music can help people living with dementia to express their feelings, encouraging social interaction and evoking powerful memories, helping them to share their stories.
For more about life at Westmead our Enquiry Support Team are here to talk on 0800 917 0478.