Baking with Dot – our care home activities
Dot Lucas, 93, has always led an active lifestyle enjoying cookery and exercise from an early age.
After moving into Brambles Residential Care Home in Redditch a year and a half ago, Dot still leads an active lifestyle taking part in physical exercise daily, including stretching and chair exercises plus regular walks. As with all our residents, the home's activities leader Fiona Morsy has supported Dot to carry on pursuing her hobbies and interests and after discussing that she missed baking they decided to trial 'Baking with Dot' - fortnightly sessions which have proved really popular with the other residents!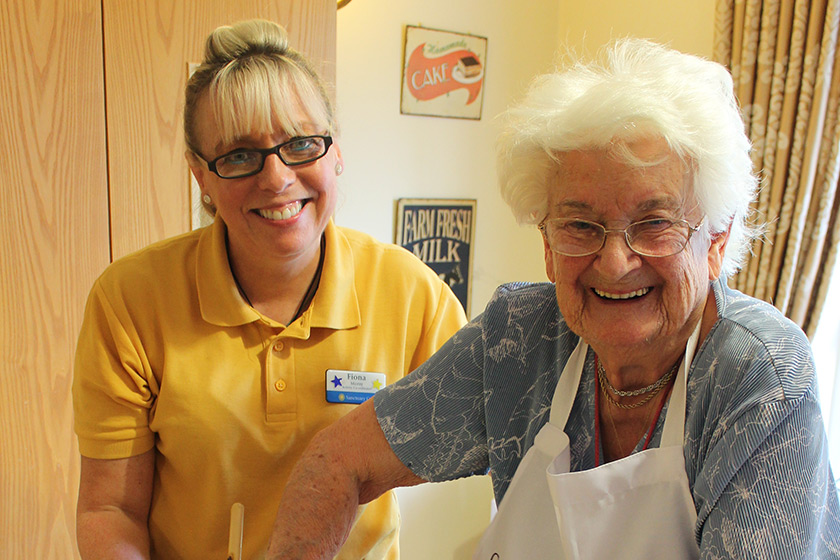 These sessions have included nutritious recipes like beetroot cake, banana muffins and carrot cake. Dot even has her own personalised apron given to her by the carers. During the sessions Dot encourages the other residents to have a go 'give it a good mix' when preparing the bakes as well as answering any baking trivia along the way, including fellow resident Jeff's question of 'why do we have to stir it so much?' – 'to get the air in!' exclaims Dot.
She says: "I really enjoy being able to still bake and support the other residents to do so, its very social and good for coordination."
Dot's war-time nutritious recipes
Dot grew up in Birmingham and during the war when food was rationed she remembers using a mixture of recipes and her own ideas to make nutritious meals and has since enjoyed cooking up her own recipes!
Dot married and had two children and believes that physical exercise throughout her life, including ballroom dancing with her late husband, has helped her to stay fit and mobile.
During her career she worked at a fashion factory making coats and then moved into upholstery for the prestigious Austin Motor Company.
She says: "I enjoyed working with fabric and also made my own coats, I worked on all the piping and stitching for the Austin interiors too." Dot still likes to knit and has taught Fiona how to crochet.
Speaking about Dot, Fiona said: "She is an inspiration and has great rapport with the other residents. Her energy amazes us all, even the residents are watching her during the daily stretching and chair exercises in awe! She's incredible for 93 and a wonderful example of living life to the full at any age."
You can read more about care home catering and nutrition for older adults on Our Food and Dining Experience page as well as care home activity news from our homes.
To bake Dot's banana muffins, view her recipe.