International Nurses' Day 2018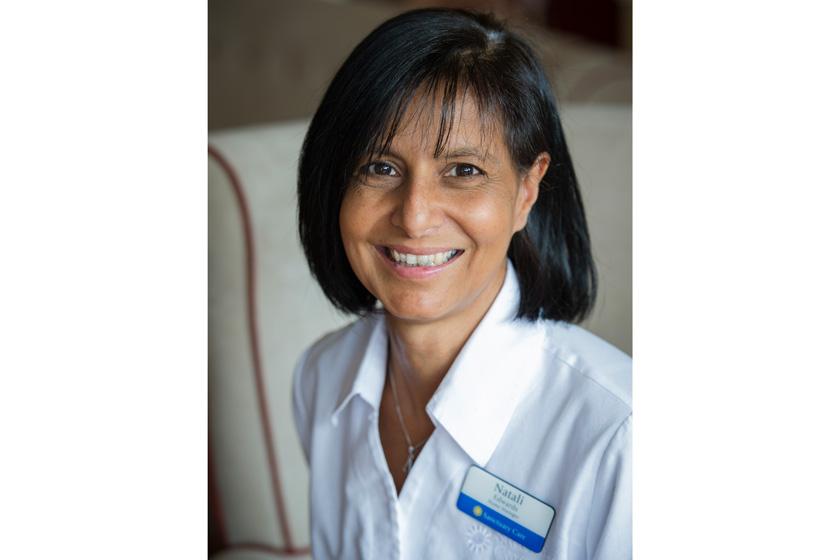 12 May is the birthday of arguably one of the most famous nurses in history, Florence Nightingale – the founder of modern nursing. On this day every year people across the globe unite to celebrate the amazing nurses that work in our care and nursing homes, hospitals, hospices and across our communities.
To mark the occasion and as a small thank you to our own incredible nurses, they have each been presented with an 'I'm proud to be a Sanctuary Nurse' pin badge, which we hope they will wear with pride.
A spotlight on Natali
As part of the day we spoke to Natali Edwards, our Manager at The Rosary Nursing Home in Bridgwater, Somerset, who began her career with Sanctuary Care over 20 years ago as a registered nurse.
At 18, Natali was doing work experience in a hospital setting, but quickly realised this type of nursing was not for her.
She says: "In hospital you made people better and they would go home. There was no continuity and you never knew what had happened to people. When you are a student nurse most people think they will work in a hospital but I knew that wasn't for me."
It was spending time with older patients, who generally stayed a bit longer in hospital that made Natali realise her true calling. She began working in a nursing home and has never looked back.
Natali joined The Rosary as a nurse almost 22 years ago, before becoming deputy manager and then manager.
Talking about her residents she says: "They are the first and only thing that matters when we come through that door. No-one chooses to live in a care home, but once they are here we have to make it as perfect as we can for them."
Why work as a nurse in a care/nursing home?
For Natali, working in a nursing home environment is the best way to nurse, because you become part of a wider family.
She says: "It's about the people, listening to their stories. Sometimes it's about being with people during the toughest times of their lives and being able to support them and their families."
For Natali one of the moments which highlight why her job is so important, was when a gentleman called David, who'd had a stroke moved into The Rosary.
She says: "He was really upset about coming, but his wife couldn't manage at home. She said 'if you don't like it in a couple of days I will come and take you home'. She came back and he said to her 'this is my home'. 
"She was so happy because she could be his wife again, spending quality time with him rather than being his carer."
It's about the wider family
For the team at The Rosary a fundamental part of their role is supporting residents' loved ones and making sure they feel that it is like a second home.
Natali says: "When they visited mum and dad in their home before they came here, they would turn up and make a cup of tea. So it's about maintaining that connection and making sure they know they can do the things they have always done whenever they like."
What's changed in 20 years?
During her career Natali has seen many changes in nursing. One of the main shifts is the focus on dementia care and in particular person-centred care.
She says: "There is a lot more emphasis on who a person is and what they enjoyed before they came here, rather than just their physical needs.
"It's about helping someone to live well with dementia rather than them being labelled by it."
What's stayed the same?
Natali says no matter what changes, the reason that people work in care stays the same. She says: "For people that come into care and nursing it is not just a job, they really do care. The reason we come to work is our residents, who we have the privilege of caring for."
Why over 20 years?
As Sanctuary Care marks its 20th year of providing care and support to its residents, Natali, who is one of our longest serving members of staff, is celebrating a milestone of her own, having worked at The Rosary for an astonishing 22 years.
She says: "I can't imagine working anywhere else to be honest. A CQC inspector asked me recently if I would live in a care home and I said 'yes'. She said would you be happy to live here and I said 'yes'.
Loved ones shouldn't feel guilty.
Natali has already told her children that if she ever needs caring for, she would prefer to live in a care or nursing home so her children can spend quality time with her, but not be her carers.
She says: "Relatives often feel so guilty because they promised they would never put their loved one in a home. But as a carer they don't get to spend any quality time with that person - that completely changes again when they come here."
Sanctuary Nurse Academy
This spotlight on Natali and International Nurses' Day comes at another exciting time for Sanctuary Care, because we are establishing our own Sanctuary Nurse Academy.
As well as already supporting international nurses to relocate here to work in our homes, providing them with the training and support they need to meet NMC (Nursing and Midwifery Council) requirements, we have two other new developments.
Sanctuary Care has established links with a leading university to develop a programme which enables existing staff in care roles to train to become 'assistant practitioners' and support nurses with clinical duties. Following this they will be able to undertake additional training to become registered nurses themselves.
We have also launched our own 'hidden nurse' programme, which supports qualified overseas nurses who work for us in non-nursing roles to pass their IELTS (an English language examination) and OSCE (a performance based clinical examination).