A taste of the US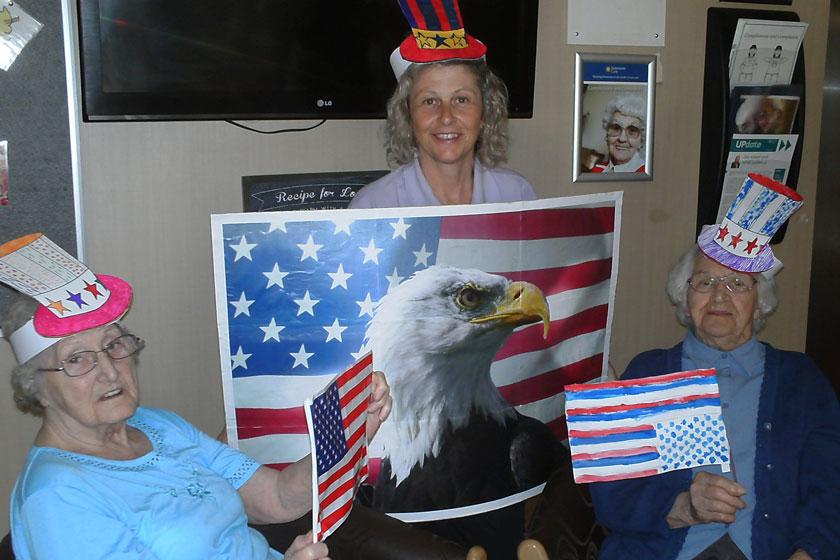 Residents at a Sanctuary Care home in Bilston celebrated all things red, white and blue this Fourth of July.
Donning stars and stripes, the team and residents at Lime Tree Court Residential Care Home showcased their artistic flair creating flags and bunting ready to celebrate American Independence Day.
With the sun shining, the home's residents enjoyed a scrumptious barbeque, along with the best of the U.S, including cheeseburgers, curly fries, ice-cream sundaes and of course, hot dogs.
Speaking of the festivities 97-year-old Olive Rea (pictured) said: "It's all been lovely and something different that we all enjoyed!"
Experiencing new cultures
The Sanctuary Care home's activities leader Tracey Skinner added: "We really like to celebrate big occasions here at Lime Tree Court – days that our residents have always celebrated growing up, and day's they haven't, like Independence Day!
"Independence Day was the perfect overseas event to get our residents ready for our virtual cruise week, coming up in August."
All back to Blighty
The home will next be throwing open their doors on Friday 10 August from 2pm to 4.30pm as they end their virtual world cruise with an 'All back to Blighty' celebration. There will be live entertainment and scrumptious afternoon tea to enjoy with homemade cakes and scones.
The address for those wishing to attend this event is Lime Tree Court Residential Care Home, 108 Ettingshall Road, Bilston WV14 9UG.