All aboard!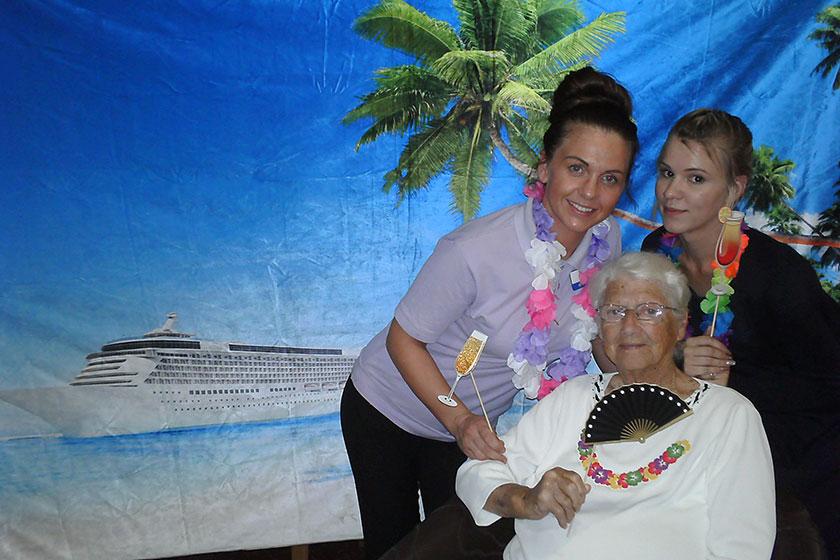 A Sanctuary Care home in Wolverhampton is pulling out all the stops as they set sail on their 'virtual' summer cruise this week.
Residents at Lime Tree Court Residential Care Home are embarking on a week-long voyage, exploring the cultures and flavours of different destinations right in the heart of their home.
European voyage
Boarding passes in hand, the Ettingshall Road home is being transformed into a number of popular European hot-spots for the residents to enjoy, including France, Italy and Spain.
The home will be 'postcard-perfect' with a cruise themed backdrop and fun photo props so residents and guests can get into the true holiday spirit. They will also be turning their hands to a number of themed activities, including Italian flag decorating and French themed terracotta painting.
Taste buds will also enjoy the flavours of Europe, as residents sample delicious fruit platters and Sangria in Spain, rustic homemade cannelloni in Italy, hearty chicken chasseur in France and many more.
90-year-old resident, Kath Taylor (pictured) said: "I have always wanted to do a cruise as you see lots of different places at once."
Community event
The home will be throwing open the doors on Friday 10 August from 2.15pm – 3.30pm as the residents end their virtual voyage with an 'All back to Blighty' celebration. There will be scrumptious afternoon tea refreshments on the captain's table, plus toe-tapping music from The Middletones.
The address for those wishing to attend is Lime Tree Court Residential Care Home, 108 Ettingshall Road, Bilston, Wolverhampton WV14 9UG.
Bringing the world to Wolverhampton
Speaking of the adventurous week ahead, the Sanctuary Care home's activities leader Tracey Skinner said: "Many of our residents have travelled far and wide in their younger years with their loved ones, so we hope as many people from the local community join us as we bring the world to Wolverhampton and celebrate many fond memories."
About Lime Tree Court
Situated in a residential area of Bilston, Lime Tree Court is an attractive care home providing a range of care and support including residential care, dementia care and respite care.
The home is designed with the usual comforts you'd expect such as welcoming lounges, landscaped gardens and cosy bedrooms, while also having a hairdressing salon where our residents enjoy being pampered.