Residents celebrate International Men's Day in Wantage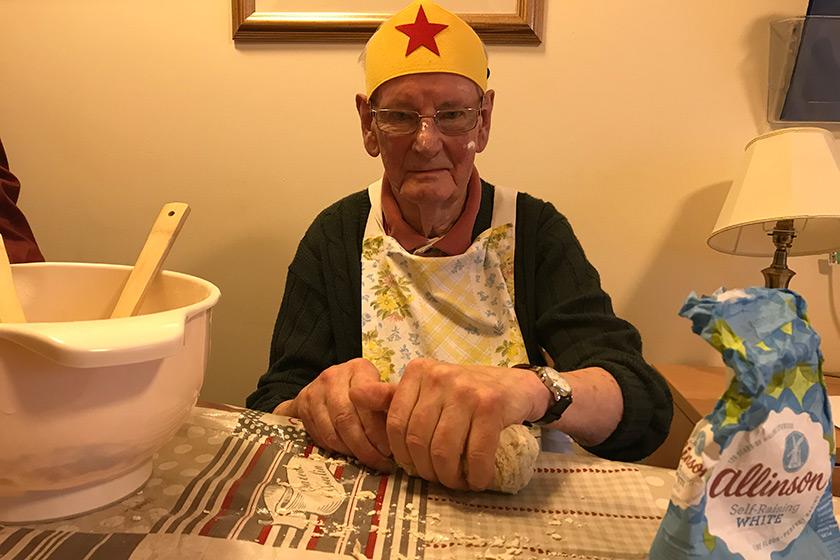 A Sanctuary Care home in Wantage hosted a superhero themed awards day to celebrate International Men's Day this week.
From 'Super Baker' to 'Super Gardener', residents and the team at Wantage Nursing Home in Garston Lane hailed the male heroes on Monday (19 November) in a fun themed celebration which adorned winners in superhero masks and capes.
Celebrating the different roles men have played
The awards celebration aimed to highlight the various roles men have played across the decades, with categories including 'Super Science', 'Super Musician', 'Super Baker' and 'Super Gardener'.
The 'Super Baker' award went to 82 year-old John Challingsworth (pictured), who was born and raised in Barnet and worked as a kneader all his life where he was mainly based in Finchley.
John said: "It is so fantastic to be have been recognised in this way, I have always enjoyed baking and kneading as you need to be very versatile."
Adding what his top tip for baking John continued: "You have to make it properly and with lots of passion."
Wantage Nursing Home's other superhero was John Collins, who won the 'Super Gardener' award, following his several decades in the gardening trade. John set up his own business at the age of 24 and called it Collins and Stoter.
John Collins said: "Oh I have always loved to be in the garden. It is important to keep on top of each season."
Other award winners were Albert Ramsden who won the 'Super Science' for his 37 years work with Exxon and Ray Ward who won the 'Super Musician' award due to spending much of his spare time over the years playing the organ in his local church when living in Dorset and Steventon.
Celebrating fantastic lives and raising smiles
The Sanctuary Care home's activities leader Ruska Udas said: "Our superhero themed celebrations were a lot of fun, not only did it celebrate the fantastic life-stories of our male residents but it also raised plenty of smiles too, and that's what it was all about. We all enjoyed celebrating our heroes and marking International Men's Day in superhero fashion."
International Men's Day (Monday 19 November) is an annual event that celebrates worldwide the positive value men bring to the world, their families and communities.