Enriching lives through music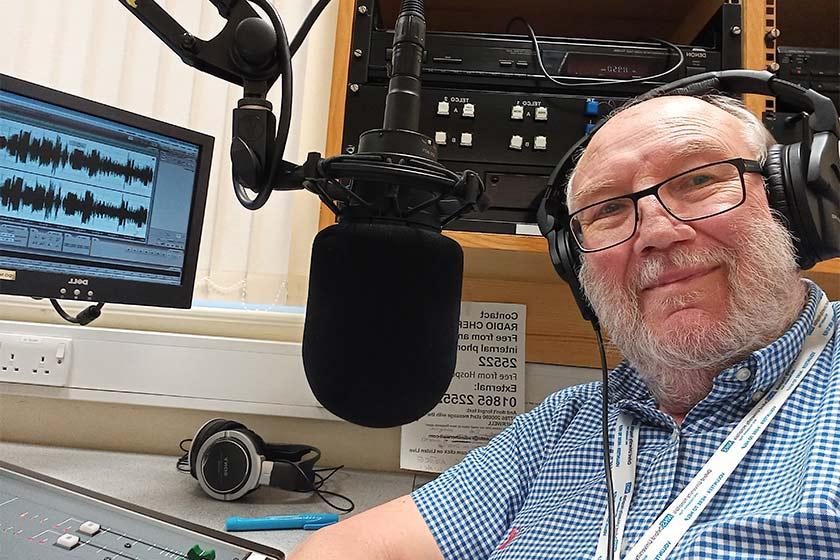 A live show with our residents' favourite music and messages fills Wantage Nursing Home, thanks to a very special partnership with our friends at Radio Cherwell.
Every other week presenter John Lant brings joy to our residents through music, with a show dedicated to them. 
Activities coordinator Sue Bell, who sends John their requests, said:  "They really enjoy it – they sing along and it's a really nice activity – it is my favourite part of the week!"
And this unique partnership is also very special for our residents' loved ones. Broadcast live on the internet, at the start of the coronavirus pandemic, when visiting was restricted due to Government lockdowns; it was a wonderful way for them to stay connecting by sharing messages. And it's also available on the Radio Cherwell app to replay.
John said: "We are delighted to help the residents, it's a real pleasure.
"As a presenter for the programme it's very enjoyable. Although I haven't met many of the residents, you get to know a little bit about them and you know what type of music they are going to choose."
And for John, who has been doing the show remotely, said it's benefitted him too during the pandemic. He added: "For me to be able to get proper requests each week has been a great joy."
John is able to meet every request, because the station has a library of over 40,000 tracks!
When asked what the most favourite choices are John said Dame Vera Lynn and Doris Day are always very popular with the residents – and of course Frank Sinatra – with 'I did it My Way' being the most requested song on the station for the last 15 years!
Find out more about what life is like at Wantage Nursing Home in Oxfordshire by calling our dedicated Enquiry Support Team on 0800 917 048 for free advice and support.